How to reset password for Akuvox intercom
12 Sep 2022

1 Minute to read
How to reset password for Akuvox intercom
Updated on 12 Sep 2022

1 Minute to read
---
1. Reset by Device Screen
A. Please enter 9999 in the dial page, then enter 3888 into the project setting interface.
B. Choose Restore, then Confirm to reset.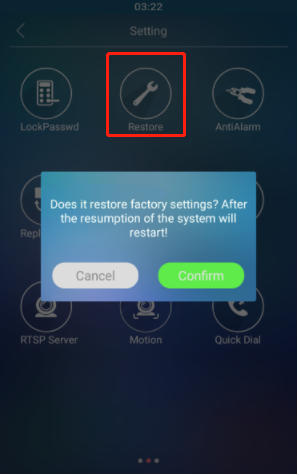 2. Reset password via Akuvox Cloud
 If the device is connected to Akuvox Cloud, then you can use autop parameters to reset the password: 

A. Go to the device info page, click the 'Info' button.


B. On the device Info page, click the Setting button;


C. On the Settings page
Fill in auto provision parameter: Config.Settings.WEB_LOGIN.Password = admin
Click Once Autop button
Click Submit to apply the changes;


D. If changes are not applied immediately, please reboot the phone;
3. Reset password via device web portal
It only available on Akuvox door phone, with new firmware.
A. Use device IP to login its web portal, change the ID to 9958


B. Click Export to export the device key.


C. The tool will search the device automatically.


D. Please send this file to our technical support team or jerry@ametagroup.com or your sales representative to generate and unlock.bin file for you (please allow 1 or 2 days for this process. Don't lost your password!)
E. Click Choose File to import unlock.bin file, Click Import button to import;

F. The password will be reset to admin;
---
What's Next